Posted by

Fred Steiner

on

Monday, December 3, 2018
Here is an announcement of a new mausoleum at Woodlawn Cemetery, Ada, from 1907. Information and sketch is provided by Leland Crouse.
May 1907 The Hardin County Mausoleum Company of Ada had plans and drawings for a new mausoleum at Woodlawn cemetery. The company is being promoted by W.H. Freund and J.E. Hesser. It was dedicated in June 1909. The mausoleum held 240 crypts and a 12-foot driveway through the center.
The ends are built of concrete blocks and the remainder of monolithic stone, or cement, substantially built by men experienced in the work. The building proposed here will be 34 feet wide, 100 feet long, 12 feet high on the side and 16 feet to the top of the arch. The crypt will accommodate 240 bodies, 4 tiers high and 30 on a tier on each side. The pocket will be hermetically sealed with cement, the air exhausted through a valve, then the front covered with a marble square on which is cut the inscription.
 A hearse can be driven into the crypt; the ends are protected by locked gates for summer and tight doors for winter. The interior will be frescoed; the corner towers will have leaded glass windows and contain rooms for cemetery directors' offices, stc.
 Such a building will be as enduring as time and will add greatly to the appearance of Woodlawn. It affords a sanitary, economical and rational means of interment. Similar ones are being constructed in Ottawa and Attica and the plan is meeting with much favor here. The Company is being promoted by W.H. Freund and J. E. Hesser who have wash drawings in colors, together with full specifications showing every detail of construction.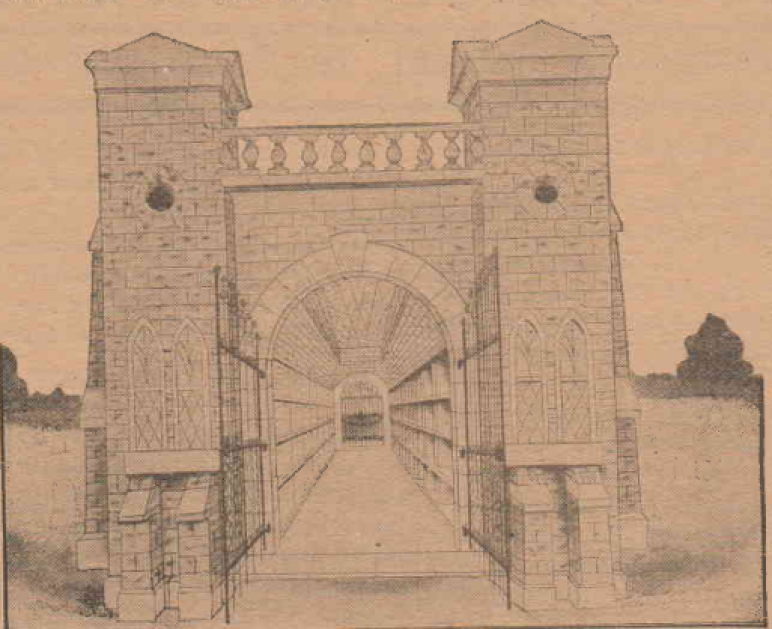 »