Posted by

Staff

on

Wednesday, November 23, 2022
By Cort Reynolds
Ada varsity head coach Vince Halliday enters year two of his rebuilding process for the Ada boys basketball program in 2022-23. 
With eight seniors in the fold and a solid, athletic top six rotation, there is cautious optimism that this year's team could be much improved. 
Eight lettermen and four senior starters return from a Bulldog team that finished 4-19 overall and 0-8 in Northwest Conference play. Ada dropped their last 15 games after a promising 4-4 start. 
A last-second loss to Waynesfield in the Border Battle semis after Ada led big most of the game sent the team into a spiral they never came out of.
"I feel a lot better about where we are now compared to last year at this time," admitted Halliday. "I know the NWC better, the players know what to expect from me, and I know them better."
Senior Carter Conley is the top returning scorer. The 6-4 wing can drive and shoot outside. He is a streaky but capable three-point sniper.
"He just needs to be more consistent," noted Halliday. 
Senior guard Spencer Wall returns to start, but will be moved more to the wing after serving as the primary ball handler last season. 
"Spencer made great strides over the summer," said Halliday. "We want him to focus on scoring more, playing downhill and driving to the basket. We want him to play to his strengths and play off the ball more."
Wall provided last season's biggest highlight when he banked in a lane floater at the buzzer to upset Ridgemont in the season-opener.
Speedy senior Jaden Leal will slide over from wing into the playmaker position. "Jaden will be our point guard," said Halliday. "We can't turn the ball over. He has gotten a ton better. He plays within himself, is quick and can get us into the offense."
Senior 6-3 wing Ethan Murphy rounds out the returning starters. A good outside shooter, he can also play inside and be a post defender. "Ethan is more of a catch and shoot guy," the coach offered.
Senior Grant Preston is another letterman back who saw significant playing time and is expected to start. He is a good three-point shooter and post defender. "Grant can bang inside on defense and can shoot the mid-range jumper from the elbow too," noted Halliday.
Inexperienced senior newcomer Jayden Bankston is the x factor for the team after coming over from Apollo. At 6-2, he can play inside or outside, and drives well. "He can do a lot of things; he may even be our best player at the end of the day," Halliday offered.
"He is strong, can post up, is a willing and physical defender," he continued. "He can drive and shoot the three, but I prefer he stay in downhill mode. He is our best finisher."
Senior guard Jacob Sutherly also lettered last season, starting occasionally, and provides experienced depth. He is a solid open shooter and has good quickness.
Senior wing Casen Jones returns to the varsity, and is a good open shooter who is a physical perimeter player.
Senior 6-4 post Gage Hoffer also returns after suffering a season-ending foot injury in the football opener. He should be able to play by early to mid-December. 
"Gabe gives us a physical presence," said Halliday.
After the top eight all-senior rotation, there is a drop-off in experienced players. "Our top six will play a ton of minutes," Halliday predicted. "One good thing is that they are all completely interchangeable."
Junior wing Carson Gossard, junior Gabe Blankenship and sophomore Brody Erickson round out the 11-man varsity roster.
The only significant loss to graduation was high-energy leading scorer/rebounder Cayden Murphy, who made honorable mention all-league as a senior.
Halliday said the team will primarily play man defense and some 2-3 zones, and "might press a little here and there. We may do some situational halfcourt trapping," he added.
On offense, "we want to run and get layups, first," he noted. "Then catch and shoot three's, second. We are better in halfcourt offensively this year. But we want to capitalize and try to score before the defense gets set," he added.
Surprise champion Bluffton shared the NWC crown at 7-1 last season with Crestview. Spencerville was third (6-2), followed by Columbus Grove (5-3), league newcomer Leipsic (4-4), Lincolnview and Allen East (3-5), Delphos Jefferson (1-7) and Ada (0-8).
The Pirates and CG both lost a lot of veteran talent, and seven of the top 10 All-NWC picks graduated, including Viking Player of the Year Mason Brandt. The Knights and Bearcats are likely the pre-season favorites, but the league race appears to be up for grabs.
"Winning a league game is step one for us," said Halliday. "Overall, we just want to win more games and generally be more competitive."
Halliday notes the team possesses several strengths.
"We are very comfortable with who we are, we know what we can and can't do," he continued. "As long as players play to their strengths we can compete well. 
"But when we don't, we can get in trouble. We shoot the three pretty well, and our top six are interchangeable."
Turnovers were a bugaboo last season, as presses bothered the Bulldogs. "We have to value the ball more and cut down on turnovers," the coach said. "We want to be better defensively."
They tip off the season Friday, November 25 at county rival Ridgemont, and then visit Ft. Jennings the next night.
Ada's home opener is Saturday, December 3 vs. non-league foe McComb. 
The league opener is December 9 at Columbus Grove, guided by long-time ex-Ada coach Chris Sautter.
Ada will again compete in the fifth annual Border Battle tournament Dec. 29-30 at Waynesfield. The four-team event also features defending champion USV, and backyard rival Allen East.
"We also have four freshmen on our JV team that I really like," Halliday added. 
Former Bulldog Josh Lehsten returns for his second season as varsity assistant. Newcomer Alex Stephens and veteran Sean Anderson are also assistants.
With solid athleticism plus a group of six versatile players - and an experienced top eight senior core - Ada could be a big surprise team if everything falls into place.
PHOTOS
TOP:
The Ada varsity boys basketball team, L-R: front: Brody Erickson,
Gabe Blankenship, Carson Gossard, Jacob Sutherly.
Middle: Spencer Wall, Carter Conley, Ethan Murphy, Jaden Leal, Grant
Preston.
Back: L-R: head coach Vince Halliday, varsity assistant Josh Lehsten, Gage
Hoffer, Casen Jones, Jayden Bankston, assistant coaches Alex Stephens
and Sean Anderson.
BELOW: Coaches
From left: Ada boys varsity basketball head coach Vince Halliday;
assistants Josh Lehsten, Alex Stephens, Sean Anderson.
BELOW: Returning Ada boys basketball lettermen, L-R: Spencer Wall,
Carter Conley, Ethan Murphy, Jaden Leal, Grant Preston.
Back, L-R: Gage Hoffer, Caden Jones, Jacob Sutherly.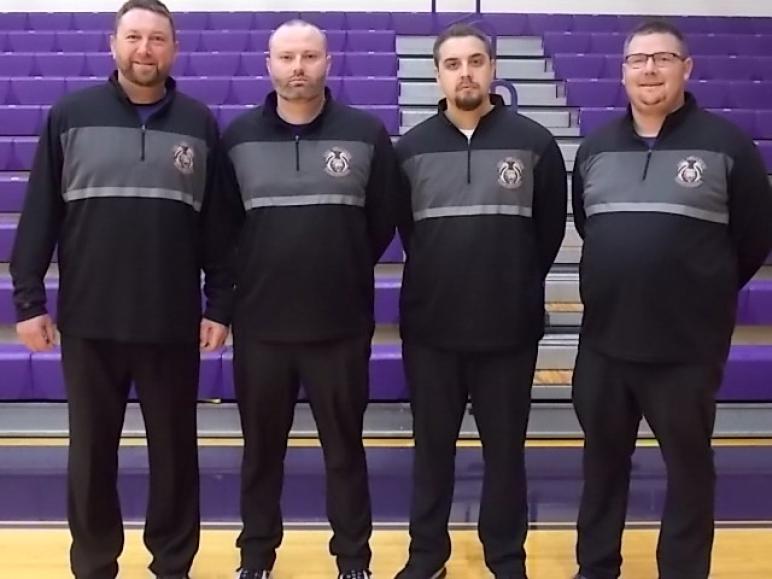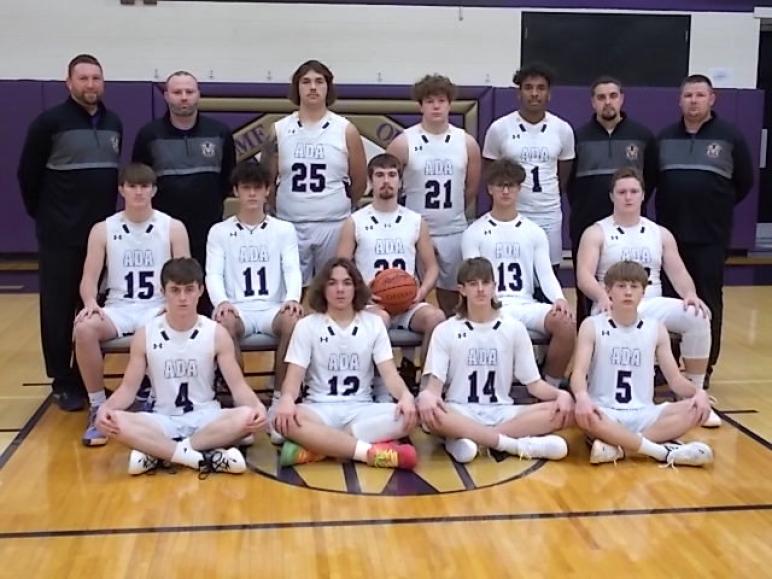 »