Posted by

Staff

on

Tuesday, August 15, 2023
By Cort Reynolds
The Ada High School boys golf program features a young five-player roster in 2023. Yet second-year head coach Kurt Klingler has a more experienced team than the one he inherited last season.
Klingler welcomes back two lettermen and three newcomers to the Bulldog squad. "We are taking baby steps," said Klingler. "Our newcomers do have some golf experience. We are a little more experienced this year.
"We are working on refining strokes," he continued. "So we are a few steps ahead of last year at this time." 
Three-time letterman senior Jack Baumgartner is the top returnee and is the team's undisputed number one player. "Jack has put in some good work," said the coach. "His all-around game is good. He is patient and composed, stays calm. He does not let one mistake snowball into other errors."
Freshman Brody Rister is expected to fill the number two role. The Allen East transfer is a southpaw. "Brody has played the game his whole life; he has a good short game behind his putting and chipping," said Klingler.
Tall junior Ethan Lawrence is a newcomer to the team after playing baseball for Ada. "He has a monster swing but still needs to control it better," offered the coach. "He is very coachable and willing to work."
Sophomore Sam Crawford is the other returning letterman. "Sam gained some valuable experience last year," Klingler said. "He has good composure and is more confident in his swing. He has a plan out there now."
Freshman Lawson Klingler rounds out the roster. He has a year of playing golf on an individual basis under his belt, so he has more experience than the typical newcomer. "He works hard and just has to grow into his clubs," said his father/coach. "He has the desire to get better, and the work ethic."
The Bulldog link squad has set modest goals for 2023.
"One of our bigger goals this season is to shoot under 200 as a team for at least one match," said the coach.
"We also just want to be better golfers and men every day, be more honest and kind. Golf is a sport where you make your own calls and follow the rules individually.
"I would like to see Jack break 40 at least once this season," he continued. "He will shoot well. I want the other guys to try and get into the 40's as much as possible."
He feels the team needs to learn how to not let mistakes avalanche into bigger complications. "We need to develop the common sense aspect of golf," Klingler noted. "We want to play the ball back into the course if we get behind a tree or something like that, instead of trying to make highlight plays.
"We are not trying to make ESPN here," he added.
Leipsic (15-1 NWC) is the defending Northwest Conference champion, led by returning league player of the year Brevin Brandt. Ada finished ninth in the NWC tournament at Hickory Sticks last fall.
"Most of the NWC will be good," said Klingler. "Leipsic, Grove and Crestview look good. Allen East has some players back. Bluffton (12-4 NWC) is always good."
Lincolnview finished second in the league at 14-1 last fall. The Lancers took third in the NWC meet, behind Leipsic and Delphos Jefferson (11-7 NWC).
Inexperienced Ada simply wants to keep improving and be competitive in 2023. The Bulldogs lost three players and two seniors from last season, including graduated honorable mention all-league player Geddes Klingler.
Ada was 1-20 last season, including 0-14 in NWC play. 
"We are still pretty young but we have a good group of kids who are interested in getting better," the coach summed up. "We have a lack of depth. Mental toughness will be key."
Ada got off to a tough start last week, going 0-8 in its first three matches.
Ada golf at a glance
Head coach: Kurt Klingler, 2nd year
2022: 9th at NWC meet, 0-14 NWC
Lettermen back/lost: 2/3
Top returnees: Sr. Jack Baumgartner. So. Sam Crawford. 
Top newcomers: Fr. Brody Rister , Jr. Ethan Lawrence, Fr. Lawson Klingler
 
PHOTOS by Cort Reynolds
The Ada varsity golf team, from left: head coach Kurt Klingler, Lawson Klingler, Sam Crawford, Ethan Lawrence, Jack Baumgartner, Brody Rister.
Top returning Ada golfer, senior three-time letterman Jack Baumgartner.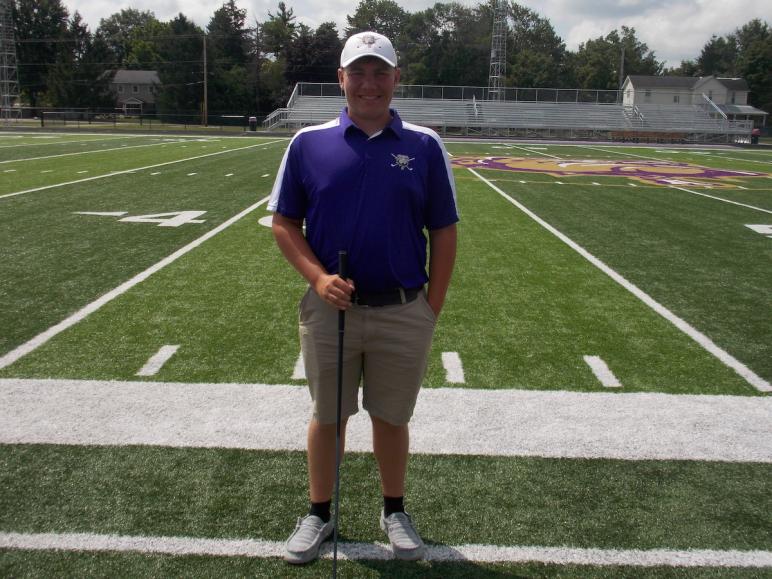 »