Posted by

Staff

on

Wednesday, August 16, 2023
Bulldogs entertain Fort Jennings on August 24 in the home opener
By Cort Reynolds
Second-year Ada varsity girls soccer head coach Doug Dewese looks to continue the growth his team experienced last season behind a huge crop of letter winners and several talented newcomers in 2023.
Two record-setting scorers and six other seniors are expected to combine with some offensive-minded first-year players to form a potentially formidable squad.
Toward that end, Ada returns 10 starters, 8 seniors and has 14 letter winners back on its 21-player roster. 
Last season, the Bulldog kickers raced to a 4-0 start before leveling off against tough competition.
Despite its strong start Ada fell short of the 10-win goal the coach set in pre-season.  The Bulldog girls ended up 5-13 overall, finished 0-6 in the Northwest Conference and also went winless in rugged NCOSA play.
But the squad gained valuable experience and has a year under their belt with the relatively new coaching regime.
CONTINUES
"I don't have a win-total goal in mind going into this season," said Dewese. 
"I absolutely love having eight seniors," he noted. "We have a solid midline plus two good seniors outside in Ella Marshall and Olivia Burkhart. We have a good group with senior leadership. 
"We should be attacking a lot more on offense with (newcomer) Alex Gibson in there too," he added.
Two senior standout forwards and a junior will team with Gibson to produce one of the better offenses the program has ever had this fall.
Senior speedster Marshall was named first team All-NWC/NCOSA for the third straight year in 2022. She poured in 16 goals last year to set the program single-season record.
Marshall also earned second team all-district honors in 2022. 
"Ella is a good ball handler and a linchpin to run our offense through," said Dewese.
Burkhart set the Ada program mark for assists in a season with 13 helpers last fall. She also netted seven goals and was voted second team All-NWC and All-NCOSA.
"Olivia has good speed and works the right side well," noted the coach. "We have a good returning one-two punch up front with her and Ella."
Quick junior forward Lexi Poling ranked second on the team with 10 goals last season. She earned honorable mention All-NWC notice, and has a good attacking mindset on offense.
Feisty senior Katie Sizemore returns as the starting goalkeeper. She gained valuable experience in 2022, her first season in goal, before a knee injury ended her campaign prematurely.
"She looks healthy in net," said Dewese, who previously coached as an assistant at Bath and Kenton before taking over at Ada.
Senior defender Elsie Allen returns to help form the backbone of the defense. She ran cross country her first two seasons and maintains good endurance. Allen has been hampered by an ankle injury in the pre-season.
Senior midfielder Kailey Wagner and her junior sister Karley Wagner (MF/D) are versatile and experienced returnees. "Those two girls are catch-all players who can play well at any position," the coach offered.
Senior midfielder Jenna Rodrigues and classmate forward/outside MF Karmen Hall also return to start and lend quality play. "Those two are pretty darn good," said Dewese.
Two program newcomers are being looked at as potential difference-makers this fall.
Promising sophomore center-midfielder Alex Gibson is one of the crucial new players on the roster. "She is a key player who could make or break our season," said Dewese.
"She played club ball last year, and is a good ball distributor and tackler."
Freshman forward Kenley Poling is expected to inject more offensive punch into the team's frontline as the other make-or-break newcomer. "She has speed and is a good offensive player with an offensive mindset," said the second-year head coach.
Senior Kiah Hefner returns with Allen and the Wagner duo to help spearhead the experienced defense in front of Sizemore. 
Two-year letter winner Jillian Allison and promising freshmen Reese Jordan and Callie Burgess will comprise the rest of the defensive backline.
"The defense (lineup) will be in a state of flux from game to game," Dewese predicted.
Well-conditioned sophomore Alyssa Nau returns to the team after earning a letter last season. She filled in capably at keeper last fall after Sizemore went out injured, and also plays midfield.
Sophomore track standout Jordyn Smith (MF/D and sophomore Emma Lambdin (D) also return to add quality to the team. 
Freshman Chloe Hunsicker (MF) and sophomore Marley Bulerin (MF) are newcomers who could contribute as well.
"Marley is physical and in shape after being a state wrestling qualifier," said the coach.
Freshman forward Allie Stockert rounds out the large 21-girl roster. 
Ada competes in two tough conferences. "The NWC race looks unpredictable and bunched up," said Dewese. "The league champion will probably have two losses. Allen East looks strong."
Defending NWC champion Bluffton graduated several standouts, including league Player of the Year Sami Scoles. The Pirates went to the district finals before being upset at home in overtime by Riverdale. 
"Bluffton lost a lot but will still be good," Dewese predicted. "Columbus Grove (2021 champion) looks decent. We should be able to surprise some teams in league play.
"I think Ada can finish in the top three," he offered regarding the seven-team league standings. 
Ada also competes in the difficult North Central Ohio Soccer Association, where Liberty-Benton is the defending champion.
"The NCOSA schedule will be a bear," said the coach.
"Riverdale (2022 district champion) is very tough, and Van Buren is good, they just reload," Dewese continued. "Cory-Rawson might be the only team in the league who is a bit down." But the Hornets return the McVetta trio.
"A middle of the pack finish in NCOSA would be great for Ada," he admitted.
Ada kicks off its season August 19 at Tiffin Columbian. The Bulldogs entertain Fort Jennings August 24 in the home opener. 
The Bulldog NWC lidlifter is at backyard rival Allen East, led by junior scoring ace Rilynn Jones, on August 28.  
Kori Lochard rejoins the Ada staff as an assistant, along with veteran coaches Doug Poling and Mike Hall.
As for season goals, Dewese hopes to set a few milestones. 
"Individually, I would like to see Olivia (assists) and Ella (goals) set the all-time career program records in those categories," he offered.
"As a team, I want to be extremely competitive in both leagues," he added. "Staying healthy is a concern, as always. Last year we started with 18 players, and were down to 14 by the end."
With its deep core of returning talent and promising newcomers, if Ada stays healthy the Bulldog girls should surprise and could surpass the best season record (7-6) in program annals.
TEAM PHOTO
The Ada girls soccer team, from left, front: Kailey Wagner, Olivia
Burkhart, Ella Marshall, Katie Sizemore, Kiah Hefner, Karmen Hall, Jenna
Rodrigues.
Row 2: Callie Burgess, Jordyn Smith, Alex Gibson, Katie Sizemore, Elsie
Allen, Emma Lambdin.
Row 3: assistant coach Marley Bulerin, Lexi Poling, Karley Wagner,
Kenley Poling, Reese Jordan.
Back:  assistant coach Mike Hall, assistant coach Doug Poling, Alyssa
Nau, Allie Stockert, Chloe Hunsicker, Jillian Allison, head coach Doug
Dewese.
RETURNING LETTER WINNERS
Returning Ada girls soccer letter winners, from left, front row: Kailey
Wagner, Olivia Burkhart, Ella Marshall, Kiah Hefner, Karmen Hall, Jenna
Rodrigues.
Middle: Alyssa Nau, Karley Wagner, Katie Sizemore, Elsie Allen, Emma
Lambdin.
Back: Jordyn Smith, Lexi Poling, Jillian Allison.
ADA GIRLS SOCCER AT A GLANCE
2022 record: 5-13 (0-6 NWC), 0-5 NCOSA 
Head coach: Doug DeWese, 2nd year
Letter winners back/lost: 14/2
Starters back/lost: 10/1
Top returnees:  Sr. Olivia Burkhart, Sr. Ella Marshall, Sr. Katie Sizemore, Sr. Elsie Allen, Sr. Karmen Hall, Sr. Kiah Hefner, Jr. Karley Wagner, Sr. Kailey Wagner, Jr. Jillian Allison, Sr. Jenna Rodrigues, Jr. Lexi Poling, So. Jordyn Smith, So. Alyssa Nau, So. Emma Lambdin.
Key newcomers: So. Alex Gibson, Fr. Kenley Poling, Fr. Reese Jordan, Fr. Callie Burgess, Fr. Chloe Hunsicker, So. Marley Bulerin.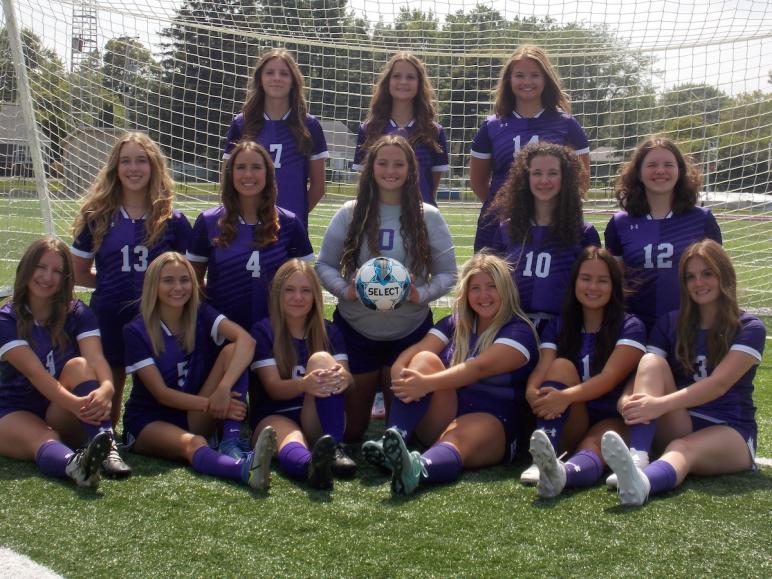 »